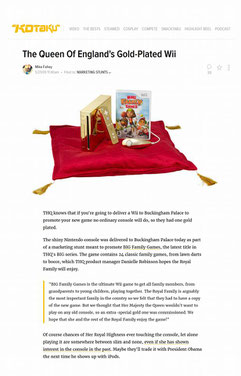 The gold plated Wii from THQ was send to Buckingham Palace / the Queen of England for a marketing stunt to promote their game "Big Family Games". It made the press and had a huge social media impact in the collecting scene and elsewhere.
But what most people didn't know...it never got signed for acceptance at Buckingham Palace and was shortly after sent back to THQ headquarters. As we all know THQ stopped and it ended up in one employees hands. This employee later sold it further to a high end collector.
After this, nothing happened with it for the longest time until last week. One of our staff member was the lucky one to make the deal and now the Queen's gold plated Wii is in Consolevariations hands!

All certificates are included and it even has the glue/markings of that red pillow it was standing on for the display. Since some people may wonder about the whereabouts of the Nunchuck, unfortunately it was lost somewhere in the massive stock of THQ.
Anyway. What a royal find and what a great story! It seems like the Queen rules, but does reign and also does not play Wii :)