Introduction to the new Consolevariations website
As you might have noticed that we have not posted blog posts since May 2018. The reason is that we are currently creating a new console variations website. Every day new features are being developed to provide an even better experience for you.
---
New to console variations?
---
Consolevariations.com is a database site for video game consoles, controllers and their box variations. After 2 years of existence we are re-launching the website to transform it into the ultimate tool for collectors and gamers introducing a ton of new features.The original site was launched in April of 2016 as a hobby project. Our goal was to list every console & controller that ever existed from the most famous brands in a clear overview. Most importantly we also included all the box variations to really let our users see the whole picture of every release there was. This was never done before to this extent and it proved to evolve to something people loved.
---
The Future
---
Since then the site and our community has grown and it became way more than a hobby. We realized that the demand for this information and clear lists with quality images is way higher than expected. So we decided to team up with a development team and create the "ultimate" tool for collectors and gamers. We want to give you a site that doesn't only provide information, but also solves the problems of collectors & gamers when it comes to managing their collection. And of course it will remain free to use - always!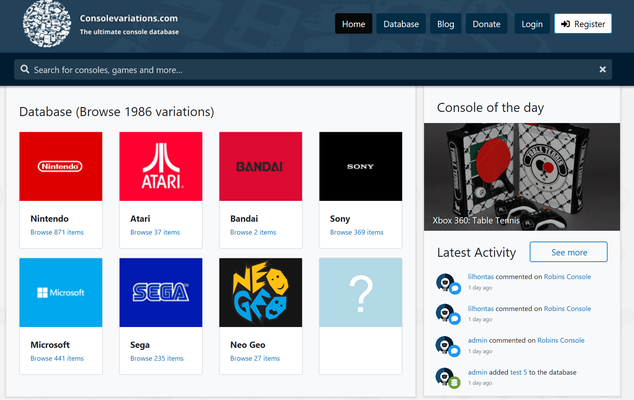 ---
The Database
---
 The database will have games, accessories, kiosks, prototypes and their box variations (additionally to consoles & controllers)

It will now also support 3rd party items

A search functionality will be implemented

Completely revamped filter page: Sort by brand, platform, release region, year, color, rarity score and more...
---
Manage your own collection
---
Add any item to your collection

Define if you own it CIB (complete in box) or loose

Add the price you paid to manage your collections value (private)

Share your collection with the world in an unique social media layout

 Add items to your wishlist

Add the amount you would like to pay for an item (completely private)

Immediately get notified when an item is available for sale for the price you are willing to pay for it (optional and completely private)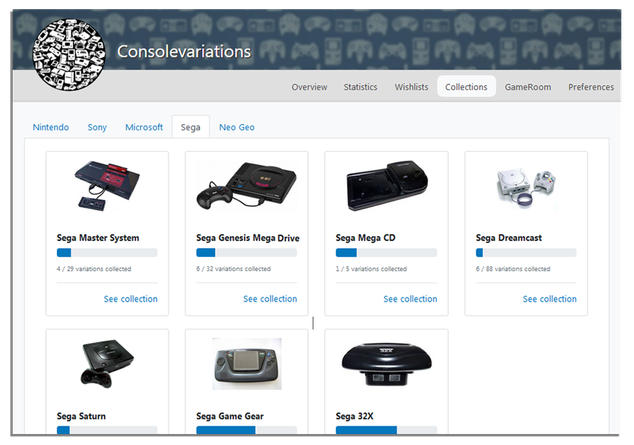 ---
Entirely new Details Page
---
Upload your own Images individually or in bulk

Revamped "Quick Facts" and "Additional Info" fields

Comment on every individual item

Share your favorite items directly on social media

Explore more consoles you might not know and that are relevant specifically to you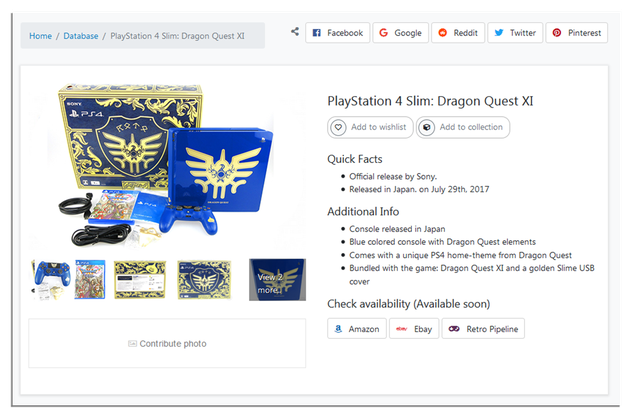 ---
Your Personal Gameroom
---
Add your game room to your profile

Select the "Holy Grails" of your collection and highlight them

Brag your game room on social media with an unique design template
---
custom Achievement and leveling system
---
Obtain achievements for certain collecting goals and earn medals

Tag 5 (of hundreds of) medals to your avatar for uniqueness

Gain XP for adding variations, gaining achievements, uploading images and more...

Level your avatar from Level 1 to 100 and unlock milestones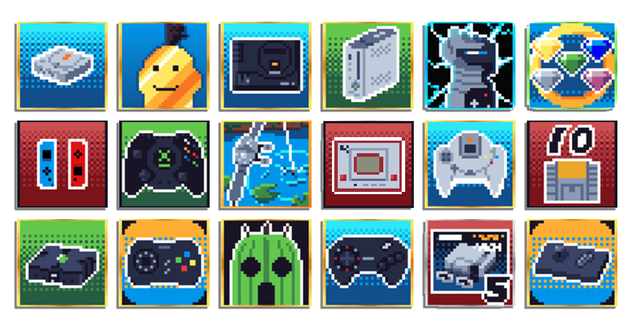 ---
Add a Variation
---
Now you will be able to add any variation to the site yourself with the greatest attention to all the details!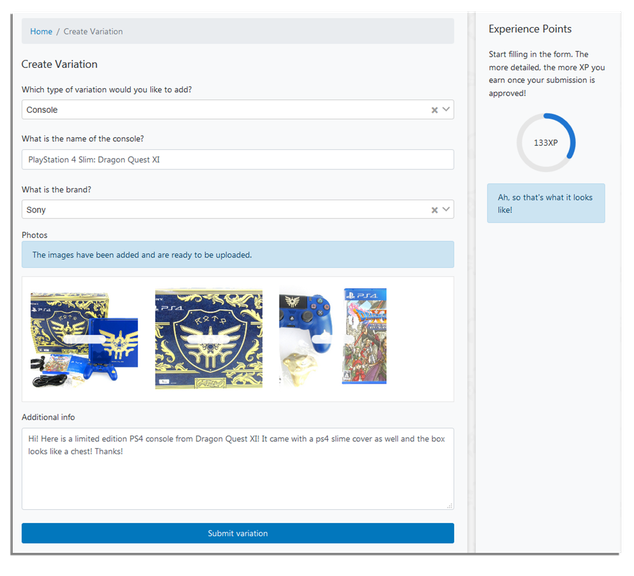 ---
More amazing Features
---
Want more? you got it! the following feautres will be availible at launch of the new site:
Console of the day

Notification system

Follow others & be followed

Billboard feature 

Compare collections
---
Social Media
---
We will be active on all the social media website! Facebook/Twitter and Instagram, we might throw in some Redit in there as well!